Medium:
Video game
Fandom:
Final Fantasy VII (Crisis Core)
Subject:
Angeal Hewley
Title:
Heaven's Honor ~He who lit the Sun"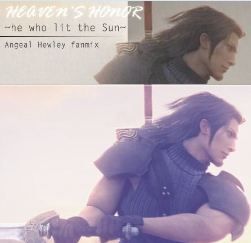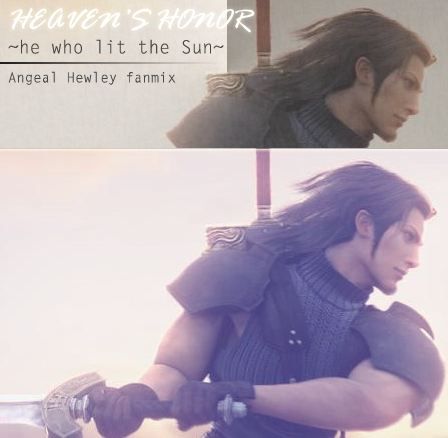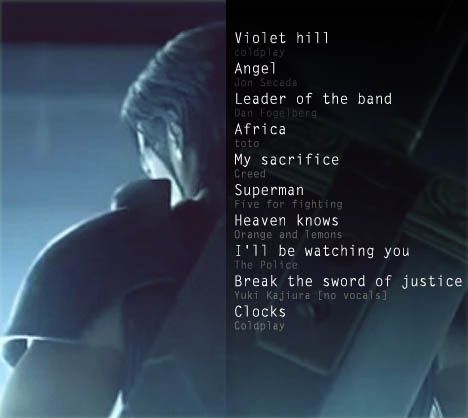 (Notes: Most of these songs will make sense if you look at it from Zack's perception or treatment of Angeal and his character. Honestly, I don't think this mix did hit Angeal dead-on [I chose most of the songs because the melody/sound reminds me of Angeal in way), but yeah.. I may give another try in the future. I'm also eyeing an Angeal/Zack one since I see a lot of songs fit for the two's bond/relationship/friendship/whatever connection they have that you'd like to think of)
Violet Hill - Coldplay

Priests clutched onto bibles
Hollowed out to fit their rifles
And a cross held aloft
Bury me in armour
When I'm dead and hit the ground
A love back home, it unfolds
And if you love me, won't you let me know?

I don't want to be a soldier
Who the captain of some sinking ship
Would stow, far below.
So if you love me, why d'you let me go?

Leader of the Band - Dan Fogelberg

He left his home
And went his lone
And solitary way
And he gave to me
A gift I know I never can repay

A quiet man of music
Denied a simpler fate
He tried to be a soldier once
But his music wouldn't wait
He earned his love
Through discipline
A thundering, velvet hand
His gentle means of sculpting souls
Took me years to understand..

Angel - Jon Secada

But the light of your eyes still shine
You shine like an angel
A spirit that won't let me go..

I, I didn't want to tell you
Things I didn't want to know myself
I was afraid to show
But you gave me a reason
A reason to face the truth
To face the truth, face the truth, face the truth


Africa - Toto

The wild dogs cry out in the night
As they grow restless longing for some solitary company
I know that I must do what's right
Sure as Kilimanjaro rises like Olympus above the Serengeti
I seek to cure what's deep inside, frightened of this thing that I've become

My Sacrifice - Creed

When you are with me, I'm free
I'm careless, I believe
Above all the others we'll fly
This brings tears to my eyes
My sacrifice

We've seen our share of ups and downs
Oh how quickly life can turn around
In an instant
It feels so good to reunite
Within yourself and within your mind
Let's find peace there

Superman (It's Not Easy) - Five For Fighting

It may sound absurd:but don't be naive
Even Heroes have the right to bleed
I may be disturbed:but won't you concede
Even Heroes have the right to dream
It's not easy to be me

Heaven Knows (This Angel Has Flown) - O&L

Cause this angel has flown away from me
Leaving me in drunken misery
I should have clipped her (his) wings
And made her mine
For all eternity
Now this angel has flown away from me

Every Breath You Take (I'll Be Watching You)- The Police

Every move you make
Every vow you break
Every smile you fake
Every claim you stake
I'll be watching you.

Clocks - Coldplay

The lights go out and I can't be saved
Tides that I tried to swim against
Have brought me down upon my knees
Oh I beg, I beg and plead, singing

Come out of things unsaid
Shoot an apple off my head and a
Trouble that can't be named
A tiger's waiting to be tamed, singing..


DOWNLOAD
Emotion:
good
Hypnotized By: I Wanna Go To A Place - Rie Fu